The 2019 Kia Optima Compared to the 2019 Toyota Camry
Here at Deland Kia we want to ensure that you are getting behind the wheel of a vehicle that is right for you.  We are proud of our Kia models and understand that they compare to many other models out there, so we want to ensure that you have accurate comparison information.  Here we have compared the 2019 Kia Optima to the 2019 Toyota Camry.  Both are reliable sedans, but the Kia Optima overall comes out on top.
Safety
Safety is one the most important parts about driving in Orlando.  It is important to know that you are driving a car that has your back and can alert you when you may not be aware.  The Kia Optima has driver alert monitors that detect an inattentive driver and will sound warnings and suggest breaks to avoid a collision and drifting.  The Toyota Camera does not offer this feature.
Both vehicles come with standard driver and passenger frontal airbags, front side-impact airbags, driver knee airbags, side-impact head airbags, front seatbelt pretensioners, front wheel drive, height adjustable front should belt, plastic fuel tanks, four-wheel antilock brakes, tractions control, review cameras and available around view monitors.
Warranty
The Kia Optima comes with a full 5-year/60,000-mile basic warranty.  This warranty covers the entire car and includes 24-hour roadside assistance.  The Toyota Camera only has a 3-year/36,000-mile basic warranty that expires two years and 24,000 miles sooner.  Kia's powertrain warranty covers the Optima for five years and 40,000 miles longer than Toyota covers the Camry.  If repairs are needed on the transmission, axles, engine, joints or driveshaft, this is covered for ten years and 100,000 miles.  This is compared to the Camry whose powertrain warranty ends after five years and 60,000 miles.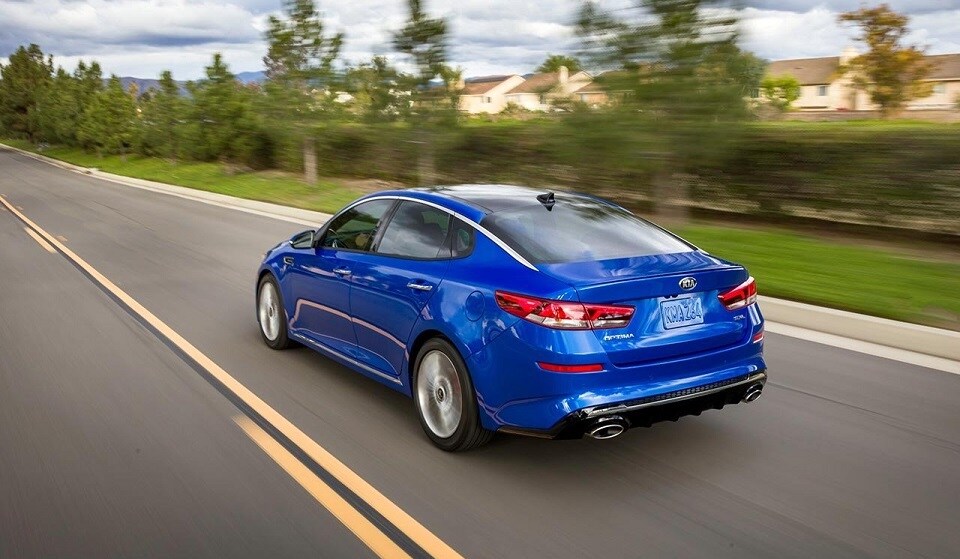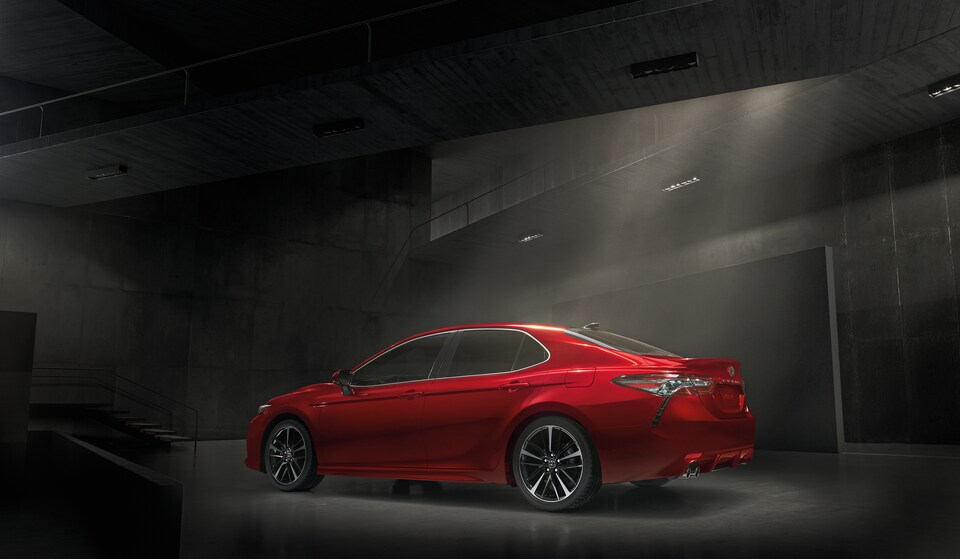 Fuel Economy and Range
The 2019 Kia Optima uses regular unleaded gasoline which is overall going to save you money at the gas pump compared to the Camry XSE/SLE which requires premium that can cost 20 to 55 cents more per gallon.  The Optima also has four gallons more of fuel capacity space than the Camry L's standard fuel tank.  You'll spend more time getting to where you need to go and less time at the gas pump.
Cargo and Capacity
Extra space is great to have for long road trips to Daytona beach or everyday errands.  The Kia Optima has a larger truck in comparison to the Toyota Camry.  The Optima has 15.9 cubic feet vs. the Camry that has 15.1 cubic feet.
The Optima also features fold-down rear seats for extra space for longer and bulkier objects while the Camry does not offer this feature.  For even more convenience the Optima offers a hands-free opening trunk, so you don't have to put your items down when loading up the trunk.  The Camry does not feature this convenient addition.
More to Love to about the 2019 Kia Optima
The 2019 Kia Optima SX comes standard with adaptive headlights that illuminate corners automatically by reading vehicle speeds and steering wheel angle, while the Camry does not offer cornering lights.  When two different drivers share the Kia Optima, the optional memory seats and mirrors make it easy to reset your favorite and most comfortable positions.  Each setting activates different memories for the driver's seat position and mirrors.  The Camry does not offer a memory system.
Overall the 2019 Kia Optima can offer you more to your everyday drive.  With features designed around you, you'll appreciate all the convenience of the 2019 Optima.  From its reliability features and generous warranty, you'll find more to love driving the Kia Optima.  Available at Deland Kia near Ocala the 2019 Kia Optima will get you further and save you money!
Hours
Monday

8:30 AM-8:00 PM

Tuesday

8:30 AM-8:00 PM

Wednesday

8:30 AM-8:00 PM

Thursday

8:30 AM-8:00 PM

Friday

8:30 AM-8:00 PM

Saturday

8:30 AM-8:00 PM

Sunday

11:00 AM-6:00 PM